Scheuerle – a subsidiary of TII Group – has expanded its SPMT PowerHoss series with the addition of a six-axle version.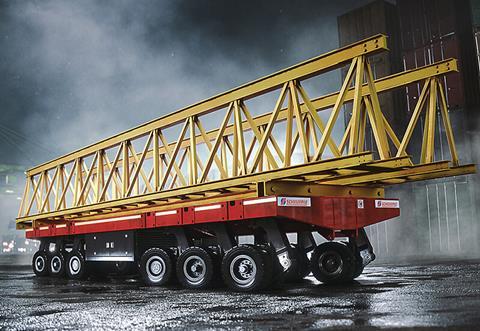 Scheuerle's SPMT PowerHoss series previously consisted of two and four-axle versions that offered payloads up to 85 tonnes and 174.9 tonnes, respectively. The six-axle vehicle – SPMT PowerHoss 330 – now offers up to 330 tonnes of capacity.
In addition, the modules can be coupled together for even greater payloads. For example, Scheuerle said that a vehicle combination of four SPMT PowerHoss 330s is able to move loads with a maximum weight of 1,320 tonnes.
The SPMT PowerHoss is also equipped with a power pack unit (PPU) integrated into the transport platform. With a width of 3 m, the module offers 40 percent more stability than comparable container-wide solutions, according to Scheuerle.
The trailer manufacturer added that the highly manoeuvrable vehicle is an all-rounder that can be used on a wide range of indoor and outdoor surfaces. It is particularly suited for use in shipyards, the construction industry, power plants, mining projects and steel industries as well as in the petrochemical sector.