Scheuerle – a subsidiary of the TII Group – has expanded its platform vehicle series through the addition of the K25 L.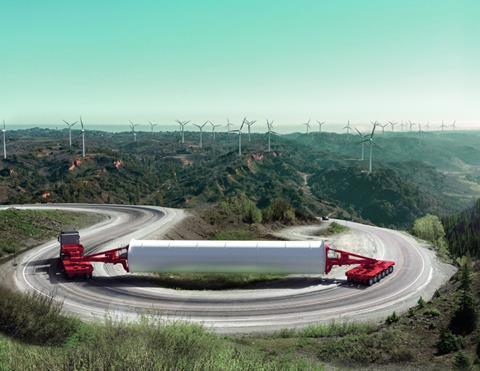 Scheuerle said that the increasing size of wind turbine components requires an extremely stable means of transport with an especially low loading area. For this reason, the company has developed the K25 L platform vehicles for the transport of such cargoes.
The addition of L indicates the particularly low platform height of 0.88 m (loaded) or 0.91 m (unloaded) despite the vehicles larger and more robust tyres, Scheuerle explained.
In addition, according to Scheuerle, the high axle compensation of 0.68 m also makes driving on uneven surfaces very safe. The maximum steering angle of +/- 60 degrees ensures optimal manoeuvrability. Lifting and lowering is carried out with the help of a power pack unit (PPU) from the Z19 series, which complies with Stage V emissions standards.
The K25 L can be delivered in two to six axle configurations; it can be combined with goosenecks, drawbars, swivel bolsters, bridges and tower adapters, and used in temperatures reaching minus 25 °C.
The axle load limit of the K25 L is up to 23 tonnes, or up to 13.9 tonnes at 80 km/h. The manufacturer added: "The highest negative and positive bending moment on the market creates economic flexibility for the operator through additional loading options. This offers particular advantages for products such as tower segments or nacelles (machine housings) that feature high point loads in combination with a high centre of gravity, and those whose centre of gravity lies far outside the support centre as is the case when transporting long goods with the help of swivel bolsters.
"Furthermore, the K25 L has a 30 per cent higher torsional stiffness compared to similar products which guarantees cornering safety during transport."
The track width of the K25 L is 2.1 m, while the external width is 3 m. Scheuerle said the large track width considerably reduces the risk of accidents caused by overturning when transporting wind tower segments with large diameters.
"Its versatility makes the K25 L the first choice beyond the wind power industry for the construction sector and for the transport of plant and machinery with high centres of gravity," Scheuerle said.