Scheuerle – a subsidiary of TII Group – has enhanced its UltralightCombi trailer line.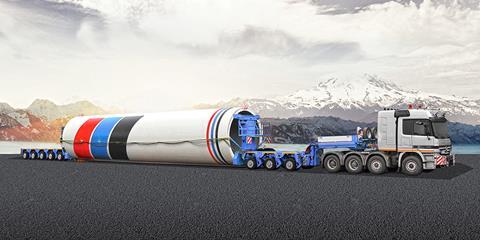 The manufacturer's U10/U11/U12 modular platforms now offer higher payloads and can be configured in 5+7 axle lines, thanks to significantly increased bending moment. The former incarnation of the UltralightCombi could be used in a 4+6 configuration.
Scheuerle said the additional two axle lines facilitates a greater payload for the vehicle operator and reduces operating costs.
The U11 version, with a permissible axle load of up to 13.4 tonnes at 25-80 km/h, allows for particularly high payloads to be transported. Away from public roads – for example, during internal logistic operations – axle loads of 14.8 tonnes at a maximum of 25 km/h and 17.4 tonnes at 10 km/h are possible, said Scheuerle.
With a total width of 2.55 m, the platform vehicles in the U10 and U12 series fully comply with EC standards and road traffic licencing regulations (StVZO). This offers advantages regarding approval procedures and especially for empty runs. In addition, it is possible to use ferries or other width-restricted facilities or routes with these combinations.
Scheuerle said vehicles in the UltralightCombi series can be used for a wide range of tasks but are particularly suited to the transport of large and heavy loads on public roads, including the transport of construction machinery, components for wind turbines, containers, transformers and crawler crane components.
The low deadweight facilitates more compact combinations with the same payload compared to modules of the Combi series, Scheuerle added.
The new UltralightCombi variations are compatible with the previous models. In addition, the U10 and U11 versions can still be combined with modules form the InterCombi and EuroCombi series.
Another advantage of the UltralightCombi series is easy handling. For example, when using a deck with a hook-coupling adapter, the front bogie unit can be removed for loading operations so that self-propelled machines can drive onto the low-deck trailer at the front by means of a flat ramp.
The UltralightCombi modular platform vehicles are available in 2, 3, 4 and 6-axle variations