Germany's P. Schwandner Logistik + Transport has expanded its fleet with three Goldhofer blade trailers and an RA 2-110 tower adapter.
The trailers are capable of transporting turbine blades measuring more than 80 m. The blade carrier solution is based on a self-tracking trailing dolly for enhanced manoeuvrability on challenging journeys and at higher speeds.
Schwandner uses a combination of a two-axle front dolly and a four-axle trailing dolly with pneumatic suspension plus turntable and a hydraulic interface. The interface is located between the turntable and the Vestas friction clamp, which developed by Goldhofer and certified by Vestas to absorb the impacts of uneven surfaces on the route.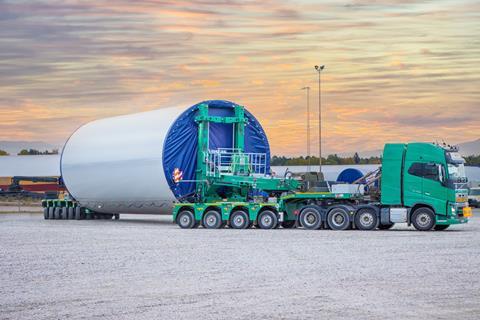 The RA 2-110 tower adapter can handle tower sections up to 110 tonnes and a diameter up to 6.8 m. The extra payload comes from the combination of a front bogie in the form of a four-axle dolly with pendulum axles and a heavy-duty THP/SL-S (285) module as the trailing dolly.
The transport solutions have already been put to work in Schwandner's fleet, moving components for the Riskebo onshore wind farm in Sweden.