Tadano has introduced the AC 4.070(L)-1 all-terrain crane, an upgraded four-axle crane succeeding the ATF 70G-4 model.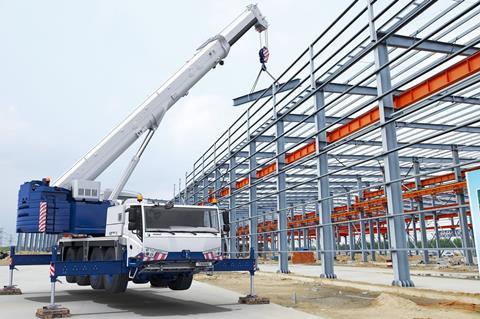 The 70-tonne lifting capacity crane features a new carrier cab, a multifunctional crane control system, and engines that conform to EU Stage V requirements.
The six-section main boom has a maximum length of 52.1 m. At its full boom length, the crane can lift 5.8 tonnes. Tadano said the lifting capacity was improved further for steep main boom positions with small radii. A 44-m main boom continues to be available as an option.
The AC 4.070(L)-1 is equipped with an AML-F crane control system. Tadano explained this makes it possible to achieve short setup times and ensures a high degree of flexibility when it comes to positioning the crane due asymmetrical outrigger setting capabilities.
Moreover, Tadano said the AC 4.070(L)-1 can be configured for a wide variety of axle load limits. Without a main boom extension and with 4.4 tonnes of counterweight, the crane can comply with the 10-tonne axle load limit that is becoming increasingly more common.