thyssenkrupp Marine Systems has acquired Scheuerle SPMTs for the in-house transportation of boat sections.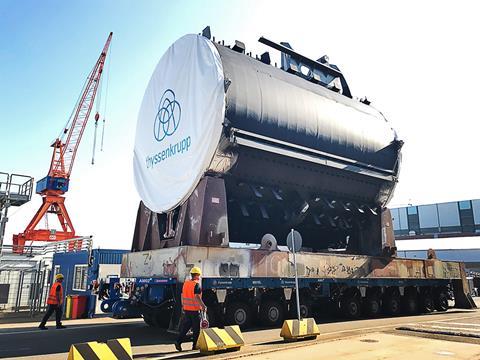 "We expressly decided in favour of SPMT axle lines from Scheuerle," explained Meik Philipps, product manager submarines at thyssenkrupp Marine Systems. He added that prior to purchase, the company undertook a detailed market analysis of SMPT providers, with Scheuerle achieving high ratings in the relevant and separating categories.
"The competition simply was not at the same level as Scheuerle particularly when it came to service capability. Furthermore, the widespread use of Scheuerle SPMT axle lines clearly speaks for the manufacturer," said Philipps.
thyssenkrupp transports sensitive and expensive ship and submarine sections in-house from one production hall to another, and these cargoes must not be left lying around for any length of time. "If a vehicle breaks down, we need a replacement as soon as possible. SPMT axle lines from Scheuerle are quickly available due to their widespread distribution," he said.
The company said that it is has already purchased SPMT and SPMT split type modules. The latter can be widened in order to suit transportation requirements. Z180 power pack units (PPU) produce the traction required for the modules. Plans to acquire additional SPMTs and PPUs are afoot.
www.thyssenkrupp-marinesystems.com