Trailer manufacturer Nooteboom has formed an exclusive partnership with Exceptional Trailer Rental in the UK.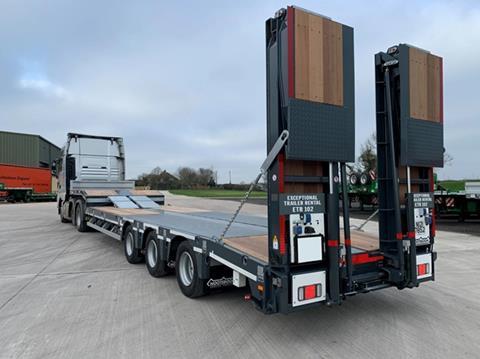 Within the UK's heavy haulage sector Nooteboom said there is a growing interest among its customers for the short and long-term rental of specialised trailers.
By partnering up with Exceptional Trailer Rental, the company said that it will meet this demand with its range of step-frame trailers featuring three or four axles, fixed or extendable decks and a variety of loading ramps; lowbed trailers, with hydraulic power steering and extendable super-shallow decks; and flatbed tele-trailers that also come equipped with hydraulic power steering, as well as a triple extendable load floors.
Hauliers will also be able to utilise the short-term rental solution to test out Nooteboom's range of transport solutions. "When a haulier is considering purchasing a new Nooteboom trailer and they have no previous experience with the Nooteboom brand, this presents an ideal opportunity to arrange a short-term rental of one of the trailers from the rental fleet. After a positive experience, if the customer should decide to purchase a new Nooteboom trailer, Nooteboom will take care of the rental costs," the company explained.
Exceptional Trailer Rental itself is a relative newcomer to the heavy haulage market. However, it is owned and managed by Nigel Houghton who has more than 40 years of experience in the supply of abnormal load trailers. Houghton has extensive experience with the trailer manufacturer, having previously formed HSE – a Nooteboom dealer and subsequently a Nooteboom subsidiary.
www.exceptionaltrailer.com/rental