Crane and heavy haulage contractor Viktor Baumann has taken delivery of a Liebherr LTM 1150-5.3 mobile crane.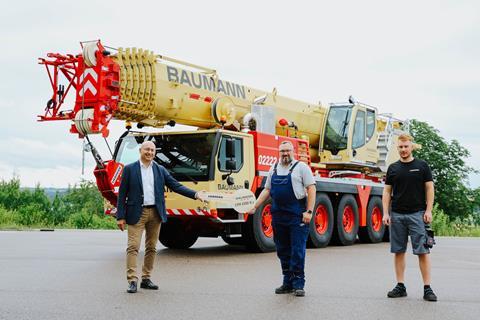 Liebherr first unveiled the LTM 1150-5.3 to the public in autumn last year as the successor to the LTM 1130-5.1.
The telescopic boom on the LTM 1150-5.3 crane is 6 m longer than the one on its predecessor. At the same length of 60 m, the new five-axle crane can hoist twelve tonnes when fully raised – 1.5 tonnes more than its predecessor. When fully extended to 66 m, the new crane has a lifting capacity of over 9 tonnes.
As a result of its long boom, Baumann said is planning to use the new LTM 1150-5.3 for erecting and dismantling construction cranes and for jobs in chemical plants where high hoisting heights are required.
Sabine Baumann-Duvenbeck, managing director of Viktor Baumann, explained the decision behind the purchase: "We wanted to close the gap between 130-200 tonnes of lifting capacity in our fleet."
Baumann-Duvenbeck added: "The new crane also features some fantastic technical equipment such as ECOmode and ECOdrive to save on fuel consumption and CO2 emissions and also to reduce noise."