Germany-based crane operator Waldschütz has boosted its fleet with the addition of a Tadano ATF 70G-4 mobile crane.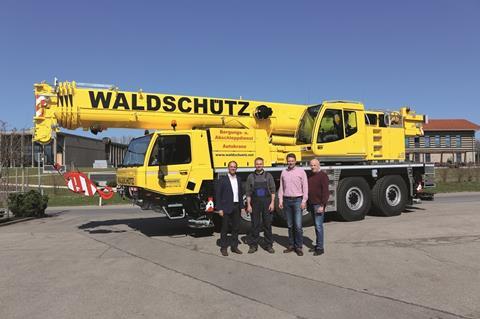 Christian Waldschütz – responsible for the mobile crane service side of the family-run business – explained that the ATF 70G-4 with its 44 m-long boom suits the company's operations: "The 70-tonne [capacity] model is a real compact all-rounder so it's just perfect for us."
Tadano said that the crane's dual-engine concept reduces noise and exhaust emissions compared with single-engine cranes.
Waldschütz added that the company will use the crane for a variety of operations including towing and erecting basement walls and roof trusses, as well as assembling industrial plants.
The crane's first project involved lifting an indoor pool into place. Tadano said that the compact crane, which measures 12.5 m x 7.5 m, was able to manoeuvre cramped conditions and complete the lift without issue.