German crane and logistics contractor Wasel has taken delivery of two Liebherr LTM 1110-5.1 mobile cranes.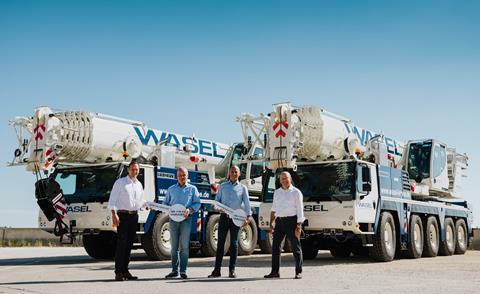 The LTM 1110-5.1 has a 60 m-long telescopic boom. Wasel plans to use the machines to erect smaller top and bottom-slewing construction cranes, and for maintenance work in the petrochemicals industry.
Based in Bergheim, Wasel said that the new 110-tonne capacity cranes will replace two LTM 1100-5.2 machines in its fleet. Managing director Matthias Wasel explained: "The Liebherr 100-tonne cranes are still important machines in our fleet because they are flexible. But the new LTM 1110-5.1 delivers a range of additional benefits. The fact that the five-axle crane can be driven on public roads with a gross weight of 48 tonnes and an axle load of 10 tonnes makes it even more flexible than the previous cranes".
Thomas Wasel, managing director, added: "The new cranes are also more economical to drive as a crane with a gross weight of 60 tonnes requires a BF3 escort. The simpler BF2 escort is sufficient for more lightweight cranes. As comparatively little additional ballast must be transported to the site for the LTM 1110-5.1, we can do the job with a standard truck, which can also act as the BF2 escort vehicle."
In addition to more LTM 1110-5.1 models, the company has also placed orders for the new LTM 1120-4.1 and LTM 1650-8.1 cranes and an LR 11000 crawler crane.