Germany-based crane service provider Wiesbauer has boosted its fleet with the addition of a Liebherr LR 11000.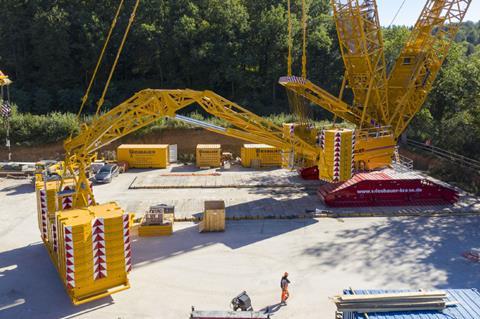 Wiesbauer invested in the LR1100 crawler crane for a project located in Stuttgart, Germany, that will see a 165-tonne bridge installed.
The company had been operating an LR 1100 crane for the construction project, which began two years ago. However, the crane became unavailable to conclude the works when it was deployed for a wind power project in the USA.
Consequently, Wiesbauer decided to invest in a new model of the 1,000-tonne capacity crane to install a permanent bridge structure, after its predecessor removed the 100-year old iron railway bridge.
Liebherr said that the conditions on the site were significantly more restricted than two years previous, but the adjustable V-frame allowed the crane operator to adapt to the lack of space.
Marco Wilhelm, authorised signatory and project manager at Wiesbauer, said: "The V-frame with VarioTray, with its wide radius range from 13 to 30 m, delivers massive benefits on sites like this."
Wiesbauer also took delivery of an LTR 1220 telescopic crawler crane, and its third LTM 1750-9.1 mobile crane.
The upgraded 800-tonne kit for the LTM 1750-9.1 was the main driver behind the investment decision, according to Liebherr. It will be used for the erection of tower segments at wind farms, industrial installation work, and operations on the Filstal Bridge between Stuttgart and Ulm.