Switzerland-based Wipfli Transporte has acquired a Faymonville CombiMAX trailer.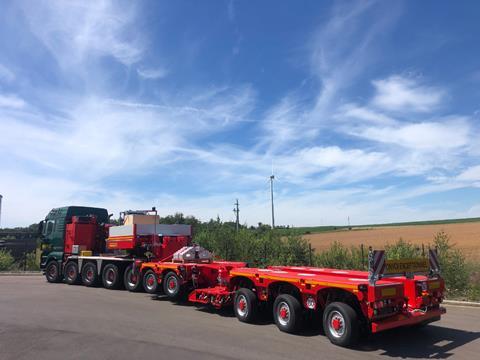 Wipfli primarily transports cable drums, construction machinery and industrial parts, usually along Switzerland's mountainous roads. With loads ranging from 10 to 100 tonnes, Faymonville said the the CombiMAX trailer is ideal for the company's transport tasks.
Manufactured at the Lentzweiler factory in Luxembourg, the trailer has a basic width of 2.85 m. A two-axle, three-axle, and one-axle bogie can be combined in a variety of ways depending on payload, resulting in a flexible transport solution.
Faymonville said the trailer is suited for project moves that require a high degree of flexibility.
Wipfli also purchased two decks – a telescopic excavator bridge, which can be extended up to approximately 3.25 m, and a vessel bridge that consists of a variety of beams in order to accommodate cable drums as well as other freight with variable lengths and widths.