As Sarens expands its presence across the world, it is opening up new possibilities for the business as well as the clients who trust us to deliver leading-edge equipment and expertise across dynamic global markets.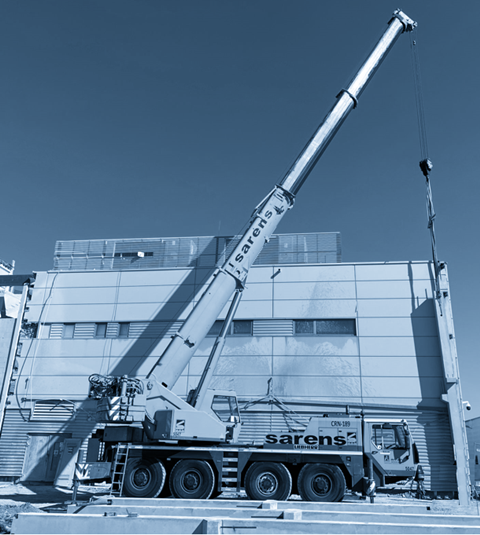 One new axis of growth is the new Sarens depot in Slovakia. Located in Bratislava, the country's capital, it enables Sarens to quickly respond to client inquiries, provide competitive pricing, and offer timely solutions. This new depot positions Sarens for success within a highly competitive mobile crane market, with a number of major players hailing from Austria, Poland, and the Czech Republic.
Despite stiff competition, the Slovakian depot recently won its first project: lifting operations on behalf of an important local company producing and assembling precast concrete elements. The client, Vahostav-SK-Prefa, offers a range of precast concrete products for the construction of civil engineering structures, from foundation pockets and columns to outer and inner wall elements, loading ramps, and more.
This particular project involved the lifting of precast concrete elements to be used in the extension of a shopping mall in southern Slovakia. The seven-week project commenced in March of 2022 and involved Sarens' 80T LTM 1080 crane.
Sarens has so far established contact with major players in the civil construction field, and will be vying for an important bridge column construction project in northern Slovakia in the near future.
"Sarens' expertise in chemical, civil, and general industry sectors will prove beneficial for the region, where I see considerable growth opportunities," says Jan Mišurda, country manager for the Czech Republic.
The depot is also focusing heavily on Slovakia's chemical industry, which has a strong tradition in segments from petroleum refining to the production of chemicals, fertilisers, rubber, and plastics. Growth in these areas is influenced largely by Slovakia's strong automotive and electronics sectors, which serve as constant, high-capacity clients for various companies in the chemical and plastics industries.
The depot recently received an invitation to tender organised by one of the key players in the fertiliser industry and a global supplier of rubber chemicals.
"The chemical industry is at the top of our prospect list," Mišurda says, although it is not limited to it, either. The goal is to build a solid business foundation within local markets and provide clients with smart, safe, and strong solutions to any heavy lifting challenge.

Sarens' mission is to be the reference point in crane rental services, heavy lifting, and engineered transport. With state of the art equipment and value engineering, the company offers creative and intelligent solutions to today's heavy lifting and engineered transport challenges. With more than 100 entities in 65 countries operating without borders, Sarens handles small-scale to mega-scale projects. It currently employs 4,452 professionals. Safety and excellence are key drivers for Sarens and the company strives daily to establish a safe space for everyone and everything related to its operations. Sarens has been the market leader for over 60 years; over four Sarens family generations are intimately involved in the business. Sarens continues to build the future on the foundations of its rich past and ensures that its clients will always stay ahead of the game when it comes to heavy lifting and engineered transport innovation.