Whether it's heavy lift, ro-ro, breakbulk or project cargo, the port of Corpus Christi has the strength to surpass all expectations.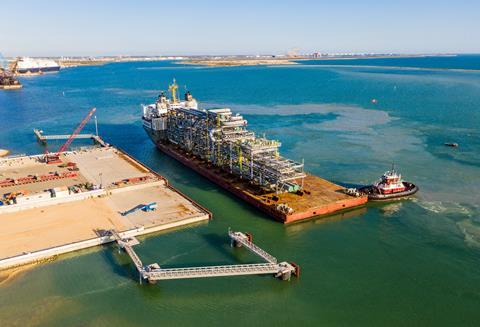 Located on the Texas Gulf Coast, the port of Corpus Christi is the largest in the United States by total revenue tonnage and is one of the largest gateways for wind turbines, military cargo and energy exports. In 2020, the Port handled 7 million tons (6.4 million tonnes) of cargo and an additional 4.3 million tonnes (3.9 million tonnes) in agriculture products.
Augmenting the growth seen over the last 18 months are the Steel Dynamics (SDI) steel plant in Sinton, Texas, and the Gulf Coast Growth Ventures (GCGV) plastics manufacturing facility near Gregory, Texas (both in San Patricio County). Both customers utilised the port's capabilities to bring in oversized modules and various steel components for the construction of their new facilities.
SDI is nearing completion of its steel plant and recently imported over 10,000 tons (9,071 tonnes) of steel coils for commissioning and testing, along with pig iron and zinc ingots. Utilising the port's newest asset, a Liebherr LPS 550 crane at the Bulk Terminal, pig iron is offloaded, placed on gondolas and railed to the SDI facility.
A combination of ship cranes and shore cranes assisted in offloading steel coils from vessel to truck for delivery to SDI. When the new steel mill opens later this year, it will produce flat rolled steel products to support markets such as Houston and Mexico.
This year, GCGV has imported various OS/OW modules over the La Quinta Terminal dock for the construction of its ethane steam cracker. These modules were some of the largest components to ever come through the port. The La Quinta Terminal, located in San Patricio County, provided the perfect location to unload and transfer the oversized cargo, providing a 47-ft (14.3-m) draft, large open dock, and direct connectivity to GCGV.
The Coastal Bend region also provides ample land for development and, as the largest energy gateway in the nation, the Port of Corpus Christi can handle all logistics needs, with a deep 47-ft (14.3-m) uncongested channel, easy access to highways and three Class 1 railroads (UP, BNSF and KCS).
To learn more about port of Corpus Christi heavy lift and project cargo capabilities, visit portofcc.com.

The Port of Corpus Christi is the largest U.S. port in total revenue tonnage. Strategically located on the Texas Gulf of Mexico, the Port has direct connections to the Eagle Ford and Permian Basins—ensuring its position as America's leading energy export gateway. The Port maintains various public liquid, dry and general cargo docks and facilities with connections to I-37 and US 181 for legal-limit and OS/OW project cargo. With a straight, 47-foot-deep channel, currently being dredged to 54 feet, the Port provides quick access to the entire U.S. inland waterway system and the world beyond.
View full Profile