AAL Shipping has delivered 38,950 freight tons of equipment for two Linde hydrogen plants in the USA, on behalf of Kuehne + Nagel.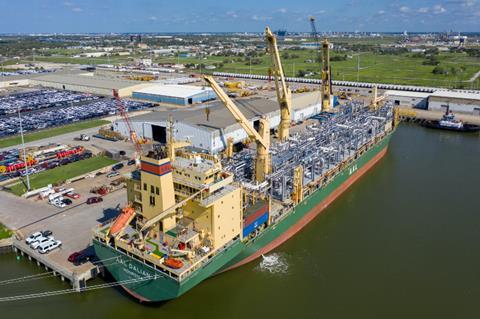 The cargoes, which included gas cooling units, were transported for the Sweeny plant in Texas and Convent plant in Louisiana. They were loaded onboard the heavy lift vessel AAL Dalian in Sattahip, Thailand, and shipped to Freeport and New Orleans.
The shipment comprised 36 modules, 43 forty-foot equivalent units and two lifting frames.
Yahaya Sanusi, deputy head of AAL's transport engineering department, explained: "Planning started in June and the main issue was how to stow such a huge cargo, comprising two identical sets of cooling units." He added that each set consisted of 18 modules, measuring up to 20 m in length and weighing 223 tonnes.
"Apart from physically fitting these 36 units safely onto the vessel, each had its own place in a strict loading sequence on and below the weather deck so that no cargo would need to be shifted when discharging the first 18 units in Freeport," said Sanusi. "Our DNV GL-approved solution involved raising the tweendecks to accommodate multiple units in underdeck holds with enough space between to lift out each safely."