Charter broker Air Partner, in cooperation with Antonov Airlines, provided an urgent aircraft-on-ground (AOG) solution to transport a replacement aircraft engine and tooling components from Luxembourg to a remote island in the Azores, Portugal.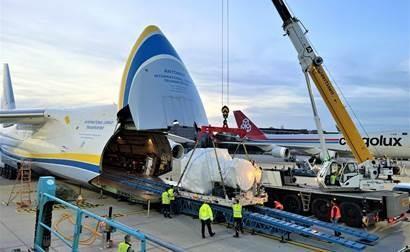 The cargo began its journey in Miami, USA, and was flown to Luxembourg aboard a Boeing 747 freighter. Upon arrival at Luxembourg, the cargo was loaded onto an Antonov AN-124 for transport to the Portuguese island. Due to unconfirmed availability of lifting equipment on the island, a 43.5-tonne crane was loaded along with a driver and rigger. The move took four days in total.
Following the successful operation, the AN-124 flew to Stansted airport in the UK with the unserviceable engine, empty stand and mobile crane onboard. The mobile crane was repositioned back to its base in the EU, and the unserviceable engine and tooling was trucked to Amsterdam for onward scheduled flights.
Robert Jubb, head of freight UK, Air Partner, said: "This complex operation highlighted the value of our joint UK and USA cargo offerings. Our team of cargo experts are available 24/7 for situations exactly like this."
Jack Burt, vice president of freight USA, Air Partner, added: "Air Partner can access any size cargo aircraft to solve any size logistical issue. The Antonov AN-124 aircraft was ideal for this charter flight and the service provided by the Antonov airlines staff and crew was world class."