Al Faris Group utilised Goldhofer trailers to transport a tugboat and pontoons to the Hatta Dam near Dubai, the UAE.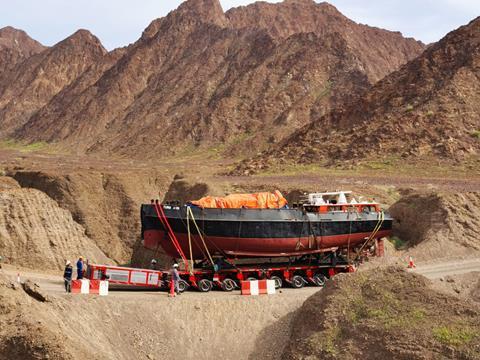 The tugboat and pontoons were transported 140 km to the site, where a 250 MW hydropower plant is being built.
Al Faris mobilised a heavy-duty Goldhofer drop-deck trailer combination for the first stage of the move from the port through an urban area. Once in the more rural Hatta mountains, the heavy transport specialist utilised towed THP and self-propelled PST modules that were more suited to the steeper gradients.
"Within our fleet, Goldhofer's heavy-duty semitrailers and modules play an important and reliable role. They form the basis for our precision planning and organization – and our reputation for punctual delivery," said Hillary Pinto, founder of the Al Faris Group.