Allelys has installed some of the largest aluminium die cast machines in the UK.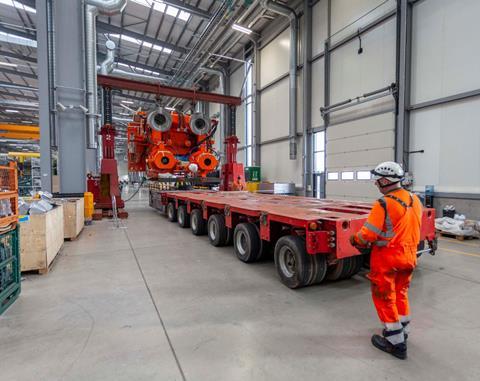 The scope of work was to offload from a critical area of the production facility and manoeuvre through into the main die cast machine area. Allelys then had to offload for a second time and install the units into their final position.
Two of the installations included a fixed plate weighing 57 tonnes and a moving plate weighing 87 tonnes.
The components were delivered to the site from Europe on a multi-axle trailers. Due to the space restrictions within the building, Allelys designed a solution that required the use of two hydraulic lifting gantries.
A lift and lock system was used to tranship the components from the transport onto SPMTs. The pieces were then manoeuvred through gangways and stanchions to the second lift system, which was a 900-tonne capacity system with side shift technology.
Both the moving plate and the fixed plate were then lifted into position on a pre-levelled base. The team completed the transhipment, transport and installation of the moving plate first and then repeated the process with the fixed plate.