Allelys is transporting cable reels to multiple compounds across Lincolnshire, UK, to support the Viking Link project – a 1,400 MW high-voltage direct current electricity link between the Bicker Fen substation in Lincolnshire and the Revsing substation in southern Jutland, Denmark.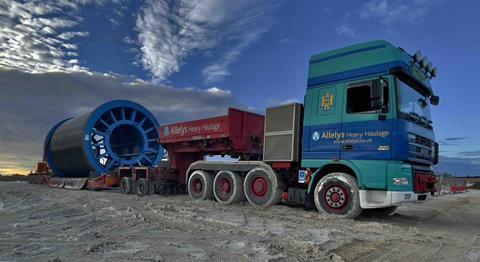 The transport scope began in October 2020 when Allelys completed route studies from the port of Boston to 24 different compounds across Lincolnshire.
"Route studies are an integral element to specialist transport projects and assist customers during the planning phase," said Zac Smout, project manager at Allelys. "We're able to identify routes that are suitable for the cargo, measure pinch points along the route and coordinate with the relevant authorities if any adjustments need to be completed.
"These can include anything from trees being trimmed and street furniture being temporarily removed through to designing overbridging solutions or gaining permission to travel contraflow along parts of the route. With the Viking Link project having 24 different compounds, this planning aspect at the beginning was crucial to the successful delivery of the reels."
Once the routes had been identified, Allelys engineered a transport solution using a specialist reeling trailer. The trailers enable the reel to sit on rollers on the beam, which can be adjusted for different reel lengths. With reels weighing up to 60 tonnes and measuring a maximum of 4.5 m in diameter and 7.1 m in length, the equipment provided the flexibility required to complete the transport to site.
To date, Allelys has completed the transport of 38 cable reels and will continue to support the project during 2022. Once completed, the electricity link will measure approximately 765 km long.