UK-based heavy lift and special transport specialist Allelys has used a Modulift MOD 250 spreader beam below the hook of a LG1550 crane to lift a Yankee paper dryer in Barrow-in-Furness.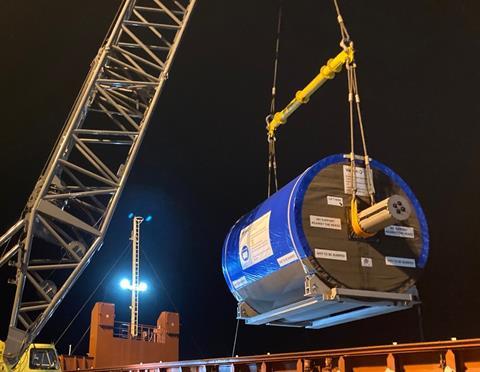 The Yankee dryer weighed 137 tonnes and measured 5.62 m in diameter and 9 m in length. It was delivered to Buccleuch Dock, one of the four docks which make up the port of Barrow in Barrow-in-Furness, from Karlstad, Sweden.
The unit had to be moved into position onboard a flat-top trailer. For the lift, the MOD 250 spreader beam, which offers up to 250 tonnes of lifting capacity, was deployed at a span length of 6.5 m. The beam has a maximum beam length of 21 m.
Once loaded on the trailer, it then began a 3-mile (4.8-km) journey to the mill in a transport configuration measuring 27 m long.
Zac Smout, senior project manager at Allelys, said: "For this operation our experts undertook the complete full-service solution by providing project management and engineering support, including a route survey, swept path analysis, lift plan and lift management. To navigate such a long transportation arrangement on A-roads is no mean feat and I'm proud that the team delivered this safely and on schedule."
Despite the short distance, the sheer size of the load meant that the route required street furniture to be removed and a police escort. Once onsite, the transport arrangement was reversed into storage and the dryer was stooled off.