In partnership with Geodis, Alstom's exceptional transport department is managing the transport of ten four-car metro trains from its manufacturing facility in Valenciennes, France, to Hanoi, Vietnam.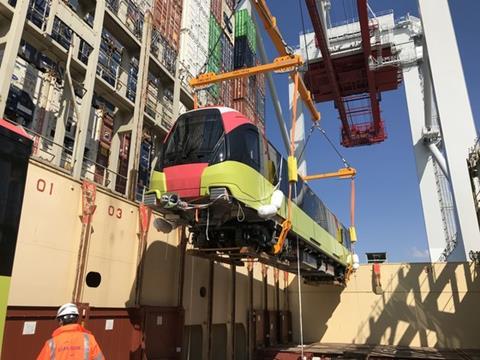 Alstom was awarded the contract to manufacture and supply the ten metro trains in 2017. They will be used on Hanoi's new line three metro service.
The company began shipping the second metro train at the end of November 2020. It is scheduled to arrive in January 2021. According to Geodis, the deliveries are spread over a nine-month period and are due to be completed by mid-2021.
The Geodis Industrial Project teams are handling the end-to-end transport process from France to Vietnam through Malaysia, including the loading at Alstom's Valenciennes premises; oversized pre-carriage to the port and port handling; delivery to the destination site; and transport engineering. The entire shipment will amount to nearly 10,000 freight tons of passenger railcars.
At the site in Valenciennes, the cars are separated and loaded onto extendable trailers for transport to the port of Dunkirk. Here, the components are lifted onto a CMA CGM container vessel, before being shipped to Port Klang, Malaysia.
At Port Klang, the cars are then transhipped on board a vessel bounded for the port of Haiphong, Vietnam, before embarking on the final 190 km leg of the journey to Hanoi.
Vu Huynh, industrial project manager at Geodis, said: "The on-carriage of each railcar [in Vietnam] requires a road convoy of more than 30 m in length. As a consequence, the delivery of each metro train set involves two overnight journeys with planning for secure stopping areas and ensuring all safety and traffic impact requirements are fulfilled. Moreover, given space constraints at the Hanoi Metro Depot off-loading site, careful coordination is needed to guarantee a safe, damage-free operation."
Other challenges, according to Geodis, are the ongoing Covid-19 restrictions and the need for specially designed lifting equipment at all three ports.