Altius has organised the shipment of two heat exchangers plus accessories from the OVS Vertova manufacturing plant in northern Italy to the Ineos refinery in Grangemouth, Scotland.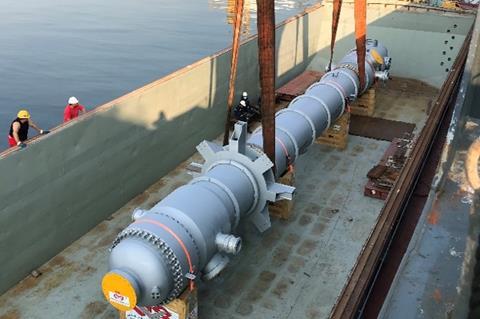 The two main units weighed 122 tonnes each and measured 22 m x 3.35 m x 3.5 m. They were moved from Vertova to the Valdaro (Mantova) river port by road.
The entire convoy measured more than 30 m in length, which meant it encountered several difficulties along the route – namely narrow and winding mountain roads.
Once at Valdaro, the cargo was loaded onto the barge using a gantry crane. It was then transported to the port of Marghera, where it was loaded onto the ocean-going vessel Atlantic Dawn using the ship's own cranes.
In the UK, the cargoes were moved to the jobsite in Grangemouth usinga Scheuerle Kamag K25 modular trailer system.