Antonov Airlines, in cooperation with Air Partner, provided an urgent aircraft-on-ground (AOG) charter solution to move an oversized aircraft engine and critical tooling from Luxembourg to Lajes, Portugal, onboard one of its AN-124-100 aircraft.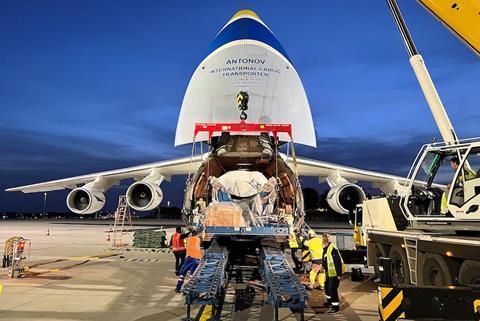 The cargo weighed approximately 75 tonnes and was loaded and offloaded using OPTG-120M loading equipment in conjunction with an external crane. The crane, driver and rigger accompanied the cargo due to unconfirmed availability of suitable lifting equipment on the Portuguese island.

Following the successful operation, the AN-124-100 was flown to Stansted airport in the UK with the unserviceable engine, empty stand and mobile crane onboard. The mobile crane was repositioned back to the base in Europe, and the unserviceable engine and tooling trucked to Amsterdam for onward scheduled flights.

The Ukrainian airline has continued operations despite the harrowing events that are unfolding in its home nation; its aircraft have provided valuable support to the war effort whilst maintaining commercial services.

Earlier this month, Victor Avdieiev, deputy general director (operations and administration) for Antonov Airlines, shared his views on what has been an incredibly demanding 12 months for the company and its staff, which you can read here.