Spanish heavy lift contractor Aytecma has used Enerpac cube jacks to switch out a vessel's engine.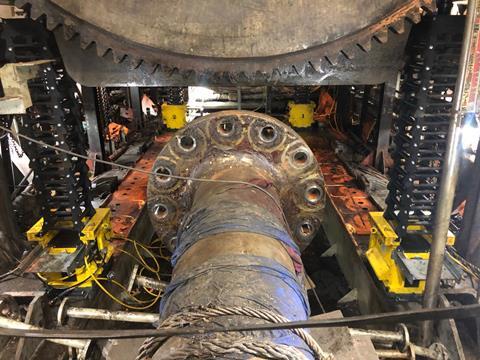 Aytecma deployed Enerpac SCJ-50 cube jacks to remove and replace the 80-tonne engine on the bulk carrier Star Pyxis, with the work taking place in the tight confines of the vessel's engine room.
Four SCJ-50 cube jacks were positioned at each corner of the 8 m x 5 m engine. An Enerpac split-flow pump allowed for a multi-point lift in a single operation.
"The compact size, ease of portability and safety of the Enerpac cube jack, and our custom skidding system, were critical to the smooth completion of the engine removal and replacement project," said Samuel Royo, head of marketing at Aytecma. "Moreover, without the need to use slower hydraulic jacks, or other shims and chocks, we were able to complete the project more quickly."
The SCJ-50 self-locking cube jack comprises a base unit and steel cribbing blocks, which are only inserted once the load is mechanically locked on the cube jack.