UK-based infrastructure company Balfour Beatty Vinci (BBV) has completed sliding High Speed Rail 2's (HS2) 12,600-tonne Marston Box bridge 165 m into place across the M42 motorway in Warwickshire, UK.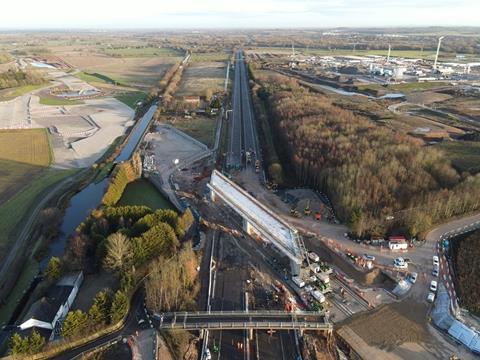 The operation, which took place between December 24-26, involved approximately 450 of BBV's people and took 40 hours to complete, HS2 said.
The 86 m-long structure, developed by design joint venture Mott MacDonald and Systra on behalf of BBV, was built on land next to the motorway over a period of six months.
The sliding mechanism – designed by specialist civil and structural engineering company, Freyssinet – allowed the box to be pushed into place over the motorway on a guiding raft in one movement, according to HS2, meaning only two one-week closures of the motorway over a 12-month period.
On the operation, HS2 civils delivery director, Mike Lyons, said: "This is the first box slide of its kind over a motorway in the UK, and we believe it's also the world's longest slide, so it's a great achievement for HS2 as we quickly approach peak construction."
Once complete, HS2 said the structure will measure around 190 m in length. The bridge will connect to Dunton Wood Embankment to the south and the Birmingham and Fazeley Canal Viaduct to the north.
The operation is part of HS2's 550,000 sq m site at Kingsbury, UK.