On behalf of Alexander Global Logistics, Barrus Projects has delivered oversized cargoes to a Taneco project site in Nizhnekamsk, Russia.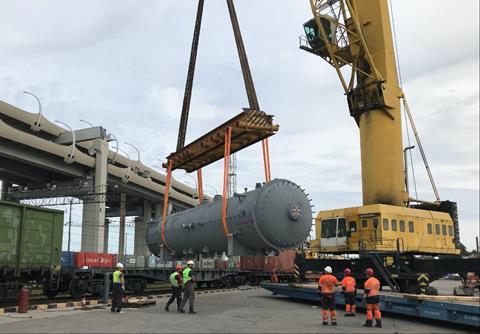 Barrus Projects was responsible for loading and transporting cargo from St. Petersburg. The first shipment included pipes that were shipped to Russia from Eberswalde, Germany. These units were transported to the jobsite by rail.
A second shipment involved the delivery of a heat recovery exchanger, manufactured by Germany's Borsig. The component measured 14.04 m x 3.01 m x 3.7 m and tipped the scales at 84.5 tonnes.
The exchanger was initially transported to St. Petersburg from Berlin. In Russia, Barrus Projects coordinated the loading and delivery of the cargo to the jobsite by rail.
The third shipment – a 76.3-tonne steam drum – originated from Bucharest, Romania. Upon arrival in St. Petersburg Barrus once again carried out loading operations and rail delivery to the jobsite. The drum measured 16.25 m x 3.59 m x 3.93 m.