Barrus Projects has transported over-dimensional cargo from the ports of Kunsan and Ulsan in South Korea to Sibur's chemical plant in Tobolsk, Russia.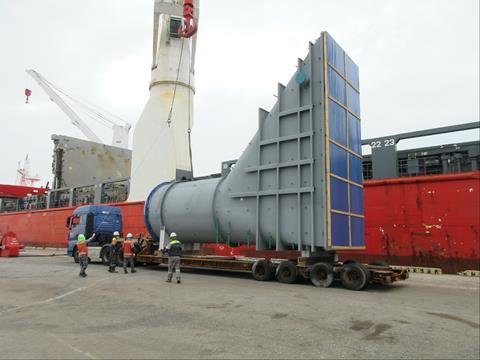 Some of the heaviest units included a main evaporator casing that measured 10.8 m 4.6 m x 5.3 m and tipped the scales at 94 tonnes, and an economiser casing that measured 10.7 m x 4.9 m x 5.4 m and weighed 70 tonnes.
The shipment also comprised a shield evaporator and super-heater casing, with dimensions of 10.7 m 4.4 m x 5.3 m; as a 49.5-tonne thermal oxidizer that measured 19.8 m 5.4 m x 5.6 m; and a 19.2-tonne flue gas duct with dimensions of 9.8 m x 4 m x 8.4 m.
The project was carried out during typhoon season in East China, which presented challenges for Barrus. For instance, the chartered ship could not reach the ports for a week due to storms. According to Barrus, the ship had to move away from the typhoons several times before being able to access the ports.
After dispatch, the vessel travelled along the Northern Sea Route to the port of Sabetta, Russia. There, the cargo was loaded onto a barge for onward transport along the Ob and Irtysh rivers to the berth of the port in Tobolsk.