Blue Water Port Services is handling offshore wind turbines for Siemens Gamesa Renewable Energy (SGRE) at the port of Esbjerg, Denmark, which are destined for projects in the USA and the Netherlands.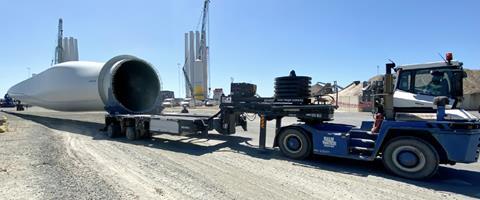 The first turbines for the Borssele 1 & 2 offshore wind farm off the coast of the Netherlands departed Esbjerg onboard the installation Sea Challenger in April. The project will run for the entire summer and is the first time SGRE will ship its B-81 blade, said Blue Water.
Blue Water is handling the blades using newly developed equipment from SGRE. In total, the Borssele 1 & 2 offshore wind farm will consist of 94 SGRE 8 MW turbines.
For the Coastal Virginia offshore wind farm – consisting of two 6 MW wind turbines off the coast of Virginia Beach, USA – components departed the port shortly before Easter.
"Despite the Covid-19 situation, all work processes are performed in a safe manner," said Søren Messmann, general manager port services division at Blue Water. "All teams involved are isolated from each other to avoid contamination. For instance, when loading the vessels, we enclose the work areas so that our stevedores can work independently without having others involved.
"In this way, we ensure that the vessel and crew as well as SGRE's installation team are isolated from the people working ashore."