The first six transition pieces for Ørsted's Hornsea Two offshore wind farm in the North Sea have arrived at the Buss Terminal in Eemshaven, the Netherlands – signalling the start of the project.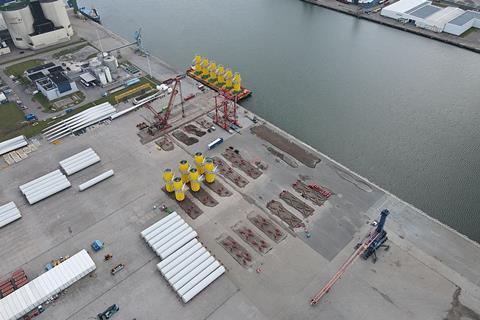 DEME Offshore selected the Buss Terminal as the base port for the wind farm's foundation structures during February 2020, as HLPFI reported here.
Over the coming months, Buss will handle and store a total of 165 foundation sets. The sets will consist of a monopile and a transition piece, which will be loaded onto the vessel Innovation for installation.
The unloading of the pieces from the transport barge will be carried out by a LR1750 crawler crane. Buss will then utilise a gantry crane on SPMTs to transport the almost 350-ton (317.5-tonne) transition pieces. The monopiles, which weigh up to 1,230 tons (1115.8 tonnes), will also be moved on SPMTs along with dedicated support saddles.
Approximately 140,000 sq m of the terminal's 250,000 sq m port area will be used for the project.
The 1.4 GW wind farm – located in the North Sea, approximately 89 km off the Yorkshire coast in the UK – will consist of 165 Siemens Gamesa 8 MW turbines.