At the port of Esbjerg, Denmark, Blue Water Shipping (BWS) has moved blade racks from the quayside to a storage area at the rear of the port.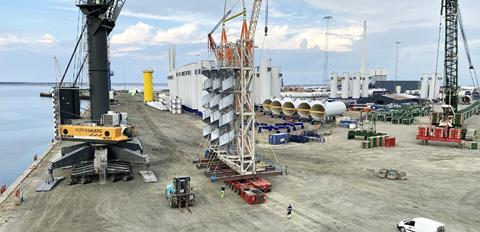 A port crane was used to load the units onto SPMTs for delivery to the warehouse. The blade racks, consisting of a tip and root-end support, are approximately 30 m in length and weigh 90 tons (81.6 tonnes) each.
The racks had been used on installation vessels in connection to the Coastal Virginia offshore wind farm demonstration project in the USA.
HLPFI reported here that Jan De Nul Group has completed the installation of two wind turbines at the development. Two 6 MW turbines were installed 27 miles (43 km) off the coast of Virginia using the offshore construction vessel Vole au vent and the multipurpose ship Adhémar de Saint Venant.
Roll Group shipped the wind turbine components for the offshore wind farm earlier in 2020 as HLPFI reported here.
Regarding the handling in Esbjerg, Søren Messmann, general manager of the BWS port services division, said: "Everything proceeded as planned, and we handled the project with our own equipment and manpower on behalf of Siemens Gamesa Renewable Energy (SGRE)."