Chapman Freeborn chartered AN-124s from Antonov Airlines' fleet to transport 370 tonnes of mining equipment from Melbourne, Australia, to Brazil.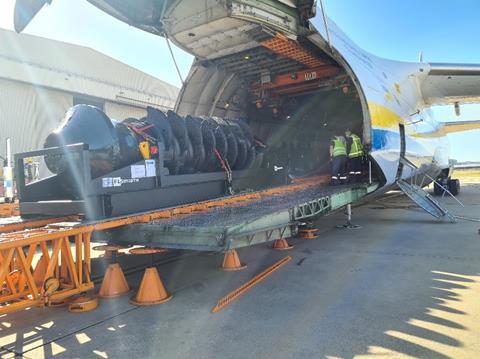 The cargo included a giant drill shaft and a transport cradle. The client required the parts urgently to carry out machinery upgrades.
Chapman Freeborn arranged the charter of three AN-124 aircraft to deliver the cargoes. Antonov's load planning engineers designed tailored frames to carry two of the pieces of equipment.
Ana Bocchini, cargo broker at Chapman Freeborn, said: "The timeline was challenging – initially our flight plan was six days in total, however we needed to change this to nine days after assessing the load."
The flights made several technical stops due to the total weight of the cargo, as well as Covid-19 restrictions. Due to limited crew numbers, frequent rest stops rather than crew swaps were required, as well as Covid-19 tests being carried out during rest periods.
Volodymyr Goncharov, commercial executive at Antonov Airlines, said: "The flights were a success thanks to well-coordinated efforts and good communication between the teams at Antonov Airlines and Chapman Freeborn."