Chipolbrok's fleet of 20 multipurpose vessels have been busy in recent months, handling bulk, breakbulk and heavy cargoes around the world.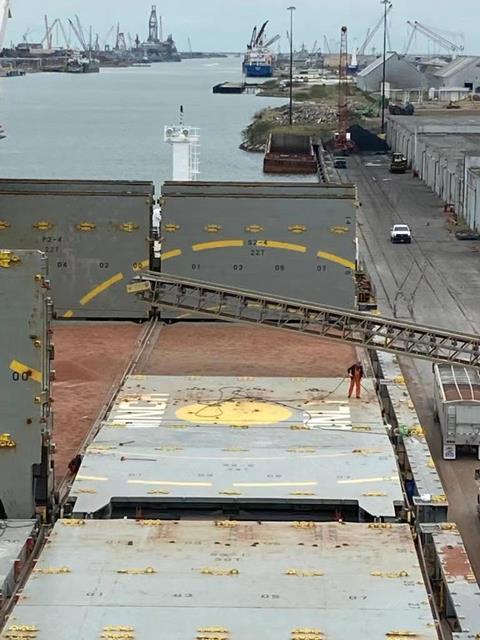 Władysław Orkan has been ploughing European waters, discharging cargoes – including wind turbine blades measuring 64 m in length along with other machinery and equipment – at ports in Sagunto (Spain), Sète (France), Antwerp (Belgium), Szczecin (Poland) and Riga (Latvia).
Machinery and steel products were discharged in Antwerp; a large shipment of equipment for a battery production plant was unloaded in Szczecin; and cargoes for a mineral factory plant went to Riga. All of the cargoes originated from Chinese load ports in Xingang, Qinhuangdao and Shanghai.
The vessel went on to ports in Antwerp; Bremen and Hamburg, Germany; and Leixões (Portugal) to load steel, industrial components, rolling stock and approximately 16,500 cu m of wind power equipment, including blades that measured 69 m in length. Heavy cargoes stowed onboard Władysław Orkan included 70-tonne and 175-tonne units – light work for the ship's 640-tonne capacity cranes.
Elsewhere, Paderewski called at the US ports of Baltimore and Brownsville in late December. Here, bulk cargo was loaded aboard ready for shipment to China. The holds of the vessel had to be carefully cleaned prior to this shipment, in order to meet grain standards.
Chipolbrok said that Paderewski is the first vessel in the company's recent history to be deployed for a grain shipment. The shipping line said: "It is a promising sign as to our diversification of global activities and underlines the company's flexibility to adopt to new challenging market needs as well as clearly showing company's outside-the-box thinking approach."