UK-based heavy haulage expert Collett & Sons, on behalf of Swedish power company Vattenfall, has delivered 50 Nordex N133 wind turbines from King George V Dock and the port of Ayr to the South Kyle wind farm in Scotland.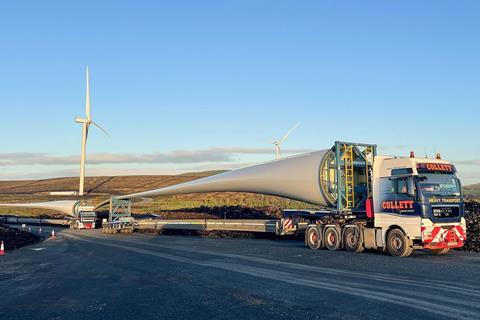 In total, Collett planned and executed 450 abnormal load movements. Heavy cargoes, including 68-tonne nacelles, 73-tonne drive trains and 63-tonne hubs, arrived at King George V Dock.
Lighter components, including 150 18-tonne blades and 150 individual tower sections, arrived at the port of Ayr. At both ports, each of the components were discharged from the vessel to a precise laydown plan, which allowed Collett's team to access each turbine in line with the wind farm's construction schedule.
For the 5 km transport to the wind farm, Collett utilised a combination of six-axle trailers, seven-axle trailers, eight-axle trailers, two tower transporter clamp trailers and three super wing carriers.
Tower sections and wind turbine blades travelled under police escort in overnight convoys to minimise traffic congestion from both ports and the surrounding areas.
Once on site, an additional team delivered each of the tower sections to their respective crane pads.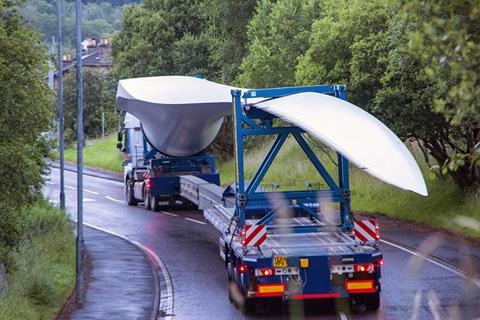 The company's project management team oversaw all aspects of the project from the initial route surveys to the arrival of the components through to final delivery.
The wind farm is expected to be operational this year.