Seven Seas For Logistic Services has handled the Customs clearance and delivery of a crystalliser from Aqaba port to Arab Potash Company's plant at Ghour El Safi in Jordan.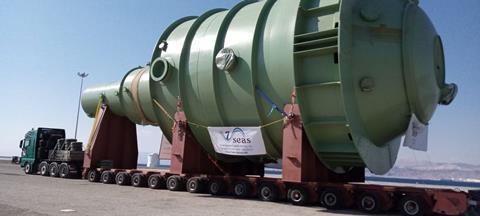 In partnership with its agent in Germany, which handled the sea shipping to Aqaba, Seven Seas received the consignment under hook. The unit only weighed 140 tonnes, but its length of 25.5 m and diameter of 10 m made this a challenging move.
"This package is the largest to have been hauled through the urban streets in Jordan since 1996," said Seven Seas. "The roads, cities and villages are much more crowded and complicated than it had been in 1996. What was once a desert highway is now almost a through-city street with many obstacles that we had to manoeuvre."
To transport the cargo 235 km from the port to the project site, Seven Seas had to coordinate with several government departments, including the traffic police of three cities (Aqaba, Maan and Kerak), the Ministry of Public Works, a telecommunications company and the Police Desert Patrols Department.
In addition, the company had to safeguard bridges, open up bypasses and pave streets and roads where required.
Seven Seas said that this is the first replacement unit to be delivered to the Arab Potash plant, with a further five expected to follow.