USA-headquartered Deep South Crane and Rigging transported, lifted and positioned a large refinery component weighing roughly 252 tonnes.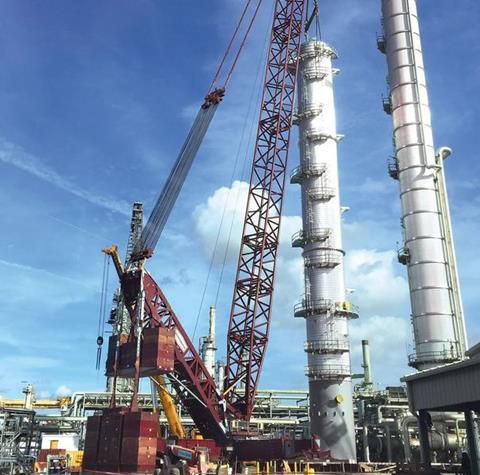 The refinery column measured 147 ft (45 m) long; it was first transported via barge to the refinery's roll-off site and into the refinery to the lift location. The team used a Scheuerle 16-line double-wide trailer configuration to complete the transport safely.
Once in position at the plant, crews manoeuvred a 680-tonne VersaCrane CC-9600 and a 400-tonne Terex-Demag CC-2400 crane to perform the lifting and rigging works.
Steven Gouner, project engineer with Deep South, said: "The setup location for the VersaCrane CC-9600 was tight since it was built in a unit… that was completely surrounded by existing 12.2 m-tall pipe racks. Real estate in the unit was scarce."
The first move required cranes to lift the column horizontally over the pipe racks. Once over the pipe rack, the column was upended into a vertical position. Deep South was keen to ensure that the counterweight trays on the main lift crane and tailing crane floated through the entire lift.