The Netherlands-headquartered Wagenborg has used a Demag AC 500-2 and Tadano ATD 400G-6 in tandem to lift a pressure vessel.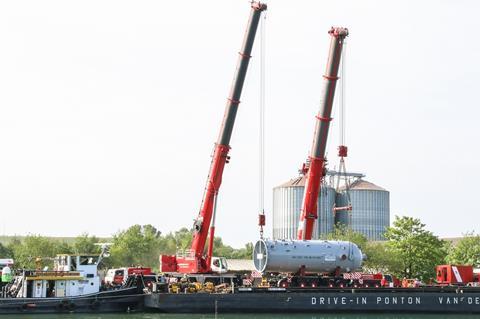 The 138-tonne pressure vessel, which measured 12.8 m long, had to be lifted off a pontoon and onto SPMTs for onward transportation.
The Tadano ATF 400G-6 was equipped with 98 tonnes of counterweight, while the Demag AC 500-2 was configured with a significantly larger counterweight of 140 tonnes.
The ATF 400G-6 handled a load portion of 49.5 tonnes, while the Demag took on the remaining 88.5 tonnes. Both cranes operated at a 15 m radius.
After setting the pressure vessel onto the SPMTs, it was moved to its final destination where it was temporarily stored and then placed on its foundation after undergoing maintenance.