deugro has transported a 485-tonne column and other petrochemical refinery equipment from South Korea to the USA for a chemical expansion project.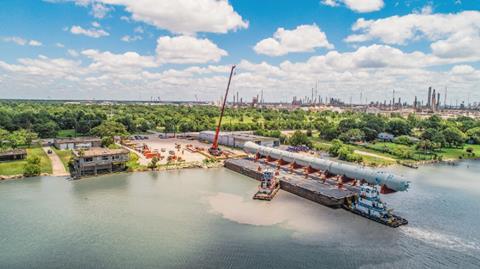 deugro oversaw the planning and transport in partnership with dteq. The C6 column measured 91.9 m x 7.7 m x 7.55 m. The shipment, which also comprised a lights tower and a primary fractionator, was loaded directly from a trailer onto a general cargo vessel in Ulsan, South Korea.
Under supervision of the surveyor, deugro coordinated the loading operation onto the vessel. This involved a tandem lift operation using the vessel's own cranes, which had a combined lifting capacity of 800 tonnes.
deugro said that due to the sensitivity of the cargo and their dimensions, customised engineering solutions and professional project management was required.
After the 967 tonnes of industrial cargo was loaded, lashed and secured, the vessel set sail to the port of Houston, USA.
Upon arrival in Houston, a barge was brought alongside the vessel and secured. Two tugboats were deployed to assist the barge in staying in a specified offloading position during the discharge operation during which the cargo was slowly lifted off the vessel.
The C6 column was lifted directly onto stools on the deck barge by the vessel's cranes. Once in the final position, as approved by deugro, the canes released the cargo.
Gert Jensen, senior vice president operations USA at deugro, said: "A component of this size requires thorough analysis of all the various tasks and steps in the handling process to ensure a safe execution and delivery. This included analysis of vessel outreach, component support points, barge stability, lashing applications etc. deugro experts and dteq transport engineers were involved from the early drawing review to the detail planning, method statement issuance and barge preparation to the on-site supervision and delivery."
deugro said that the biggest challenge during this move was developing a safe method to receive the 91.9 m-long column on the 79.2 m-long barge.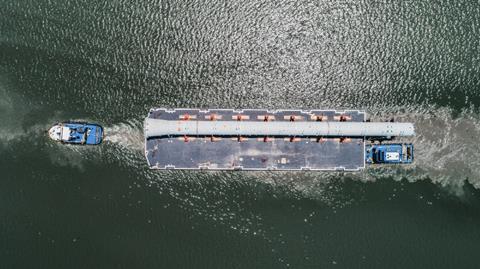 "Because the C6 column hung over the barge's stern by approximately 20 m, it needed to be placed strategically on the barge to ensure lashing according to engineering plans and to achieve proper load distribution on the structure of the barge," said Franklin Alvaresm regional head transport engineering Americas at dteq.
Once the cargoes were secured, the barge began its 20 nautical mile journey through Buffalo Bayou to Scott Bay, where it was received for a chemical expansion project.