USA-based Engineered Rigging has deployed its strand jacks to support the construction of an aircraft hangar for United Parcel Service's (UPS) Northwest Aircraft Maintenance Complex in Louisville, Kentucky.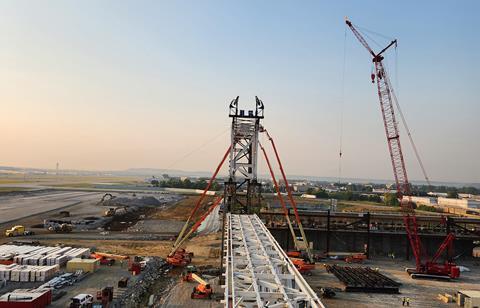 The 275,000 sq ft (25,548 sq m) hangar will house two Boeing 747-8F aircraft and Engineered Rigging was tasked with providing lifting equipment to handle the 380 ft-long (115.8 m) box truss which forms part of the door side. Weighing 771 tonnes it needed to be raised 80 ft (24.4 m).

Engineered Rigging provided equipment rental and onsite support, working with general contractor Hensel Phelps, steel erector Midwest Steel and lift engineer Ruby and Associates.
Mike Beres, director of operations for Engineered Rigging, explained: "We collaborated closely with lift designer Ruby and Associates to provide drawings of a typical layout that worked with the lift plan.
"Later, we helped Midwest Steel to ensure it had the proper equipment and best support possible in the field where we assisted with installation and equipment operation."

Engineered Rigging provided four 300-ton (272.2-tonne) HSL30006 strand jacks, four SLPP15E hydraulic power units and a unique above jack strand managing recoiler system. An operator — on the ground and positioned safely outside the lift zone — then used computer controls to execute the 80 ft lift, which took 10 hours to complete in 0.4 m increments.