Express Global Logistics (EXG) has delivered two 80-ton (72.6-tonne) rotor units from India to Europe.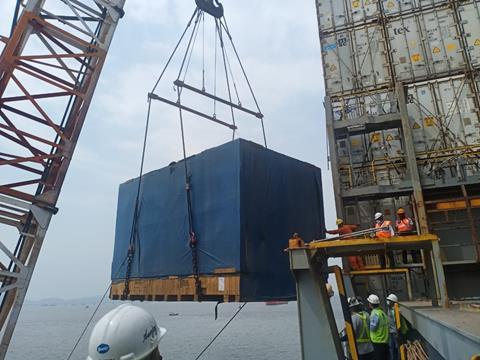 The first rotor measured 5.95 m x 3.65 m x 3.9 m and was loaded at Nhava Sheva port in India, destined for Trieste, Italy. The second rotor, also loaded at Nhava Sheva port, measured 6.35 m x 3.65 m x 3.9 m and was delivered to Antwerp, Belgium.
EXG's project scope included coordinating the transport from the site, Customs clearance, ocean freight and port handling. The cargoes were delivered on behalf of an international manufacturing company specialising in hydro power equipment.
A spokesperson for EXG explained that due to the weight of the units, it was not feasible for them to be loaded using gantry and shore cranes. Therefore, EXG worked in close coordination with the shipping line and port officials to load the cargo using a floating crane instead.
"We made it cost effective for the client by using breakbulk on container vessels instead of conventional breakbulk. It was challenging using a floating crane due to unfavourable wind and tide movements. Hence, precision was crucial to get the crane berthed alongside the vessel to load the cargo," said EXG.
EXG is a member of the Worldwide Project Consortium (WWPC).