India-based Express Global Logistics (EXG) has moved a 190-tonne boiler from Yamuna Nagar to Kandla Port in Gujarat, a distance of 1,600 km.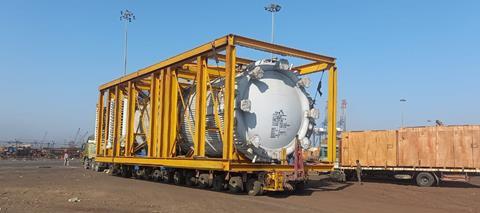 EXG had to coordinate with various authorities and undertake civil works along the route to facilitate the transport of the boiler, which measured 20 m x 6.9 m x 5.9 m.
"The height of the boiler made it difficult to pass the electrical pole wires, road cameras, toll plaza, and signboards. To overcome these obstacles, power shutdown permissions were taken, signboards were removed, and even a bypass path was created so the package could make its way through the entire route," explained EXG.
Due to the width of the boiler, dividers had to be removed and tree branches had to be trimmed to avoid damage to the cargo.
EXG is a member of the Worldwide Project Consortium (WWPC).