Blue Water Shipping is providing port services and warehouse solutions for the Fehmarn project, which involves the construction of an 18 km-long tunnel between Rødbyhavn in Denmark and Puttgarden on the German island of Fehmarn.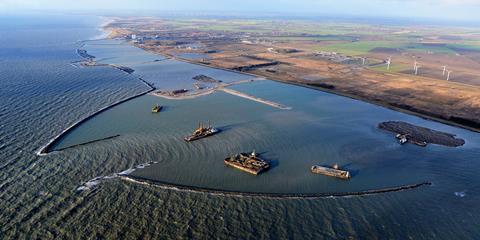 On the Danish side, the main construction phase is progressing with the preparation of the seabed and tunnel ramps. A work harbour is also being built, where materials will be shipped in.
Blue Water is providing 6,000 sq m of warehouse space, of which 2,000 sq m is heated. In addition, the company has 1,200 sq m of open facilities under roof and a 20,000 sq m fenced outdoor area.
"The Fehmarn Belt Fixed Link is so far the greatest and most expensive construction project in Denmark, and it is expected to be completed in 2029," said Blue Water. "It will be the world's longest immersed tunnel for both cars and trains, and it will take 10 minutes by car and 7 minutes by train between Denmark and Germany. The tunnel is to be operated climate friendly by green power and with focus on energy efficiency and future-proof solutions."