Canada's R&D Crane has mobilised four of the largest cranes in its fleet to lift a 446.6-tonne bridge segment as part of the Four Signature Bridges contract for Toronto's Port Lands project.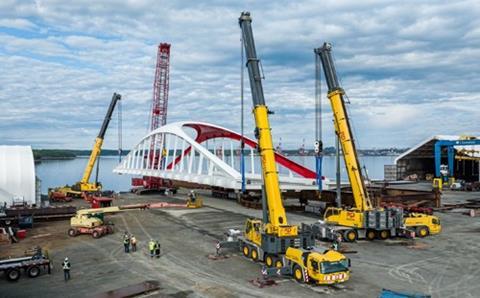 Cherubini Bridges and Structures, a division of Cherubini Group, was responsible for the work on the Four Signature Bridges contract and needed to transport a bridge section along the St. Lawrence River by barge. It called upon fellow Cherubini Group member R&D Crane to use its Manitowoc Model 16000 lattice boom crawler, Grove GMK6400, GMK5250L and GMK5240 all-terrain models to lift the structure from its supports at the Pleasant Street fabrication facility in Nova Scotia.
After lifting the structure, SPMTs with transfer beams and a Cherubini-engineered turntable was able to take the load and drive it onto a barge moored alongside the site's harbourside wharf.
Cherubini Group ceo, Darren Czech, said: "Loading the bridge sections onto the barge wasn't the issue, as the transporters were able to pick the sections and drive straight on. But with this particular section, and also a second one, there were space restrictions which meant we couldn't just simply roll on and roll off the barge using the self-propelled transporters alone. Because of the this, we engineered a solution that supplied the sections to the jobsite on a turntable structure — our giant 'Lazy Susan.'
"This allowed tugboats in Toronto to spin them around on the barge in the middle of the harbour, ideally positioning them to slot right into their final resting place. So, we used the four-crane pick at our yard to make sure the section was accurately placed on the turntable ahead of shipping to Toronto."