Barnhart Crane & Rigging worked with Kiewit Corporation to remove the main span of the Gerald Desmond Bridge in Long Beach, USA.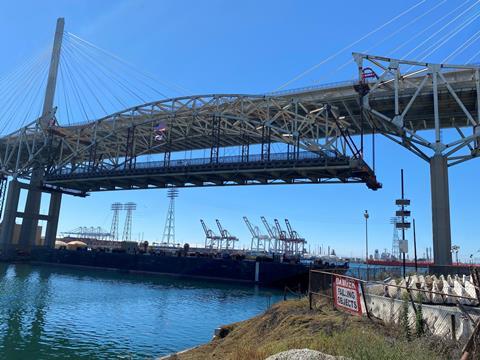 The bridge has been closed for traffic since October 2020, when a new, higher bridge entered operation and allowed for larger cargo ships to enter the port of Long Beach's waterways.
Removal of the old structure, with a span measuring 400 ft (123 m) long, required close coordination with all parties – including the bridge deconstruction engineer – to develop a plan. The solution was to lower the bridge to a waiting barge using four 1,100-ton (1,000-tonne) capacity strand jacks.
The crew had a 48-hour window to complete the work and faced stiff penalties if they didn't: a USD15,000-per-hour fee if the lowering was not completed in the allotted time and the channel reopened to the port of Long Beach. That required a 48-hour continuous work schedule over a weekend.
On July 9, Kiewit crews cut free the suspended portion of the bridge and Barnhart lowered it onto a barge below for removal. Barnhart supplied manpower to set up, operate and remove the strand jack lowering system. Kiewit performed all structural retrofitting and cutting required for the lowering.
The lowering operation and removal of the bridge from the channel via barge was completed in 20 hours, meaning the channel opened back up one day early.