Wisconsin-based Manitowoc has been providing heavy lift cranes for a USD865 million bridge upgrade project in Florida, USA.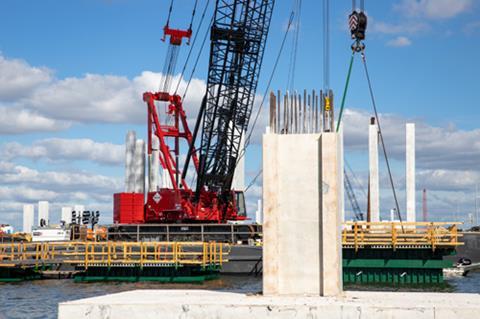 The Florida Department of Transportation appointed Archer Western Construction and Traylor Bros. for the design and construction at the upgrade, which is situated alongside the Howard-Franklin Bridge. Scheduled for completion in 2025, the bridge will eventually be 3 miles long (5 km), 168 ft (51 m) wide and will span eight lanes with a shared 12 ft (3.6 m) path for cyclists and pedestrians.
Since May 2022, 1,700 out of 3,000 concrete piles weighing 453 kg and measuring 121 ft (36.8 m) have been sunk into the limestone bedrock of the bay. A fleet of more than 20 lattice boom Manitowoc cranes and crawlers were specially selected and adapted by Manitowoc dealer Walter Payton Power Equipment (WPPE) to handle the heavy piles in the marine environment.
"This isn't a job for just any crane," said Greg Fullington, project executive at the Walsh Group. The selected models included the 4100 ringer, 14000, 999s, 2250s, 888, and MLC300s, with standard maximum lifting capacities between 200-330 tonnes.
The planning stages started in Chicago at the Walsh Group's headquarters, where preparations for the project's challenging geological and technical aspects were considered.
Pat Delis, account representative, WPPE, explained: "Part of the challenge with driving pile in Tampa Bay is that the geology of the rock changes rather rapidly across the entire bay, both in depth and hardness. Once we've selected the correct model for the capacity and radius, each crane needed to be configured specific to its application."
Another complexity of marine piledriving is the constant saltwater spray. The crawlers were fortified with a marine-based zinc undercoating to resist corrosion over the five years they will be on the water.
In addition, to ensure the protection of the surrounding environment, biodegradable hydraulic fluid was formulated and approved by Manitowoc Lift Solutions, among other measures.
"The bay is an environmentally sensitive area, so we've hired dedicated personnel to look out for manatees and any other endangered species in the waters around the bridge. Manatees are attracted by the seagrasses, which we mark with buoys to ensure our barges don't impact them, or that we don't split down our equipment in those areas. Any time they come within proximity of our equipment, we're required to shut down until they leave the area before we can work," said Greg Fullington, project executive with the Walsh Group.