GS Express Logistics has moved heavy and oversized cargoes from Jutsama's fabrication yard in Teluk Panglima Garang to Westport's terminal at Port Klang, Malaysia.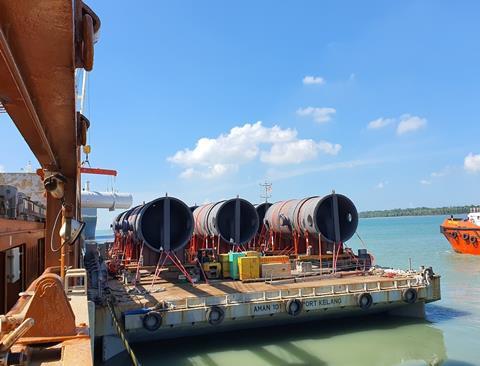 The cargoes are destined for the Calcasieu Pass LNG export terminal project in the USA. So far, GS Express has handled two shipments for the project, with two more to follow.
The first shipment had a total volume of 4,392 cu m and weighed 1,130 tons (1,025.1 tonnes). The second weighed 1,346 tons (1,221.1 tonnes) and had a total volume of 5,342 cu m.
SPMTs and hydraulic multi-axle trailers were used to roll the oversized cargoes onto barges at the fabricator's jetty for transportation to Port Klang. From there, the shipments were loaded onboard an ocean-going vessel for onward delivery.
GS Express is a member of the XLProject (XLP) network.