Gustav Seeland has transported and lifted a footbridge in Hamburg's historic Speicherstadt warehouse district.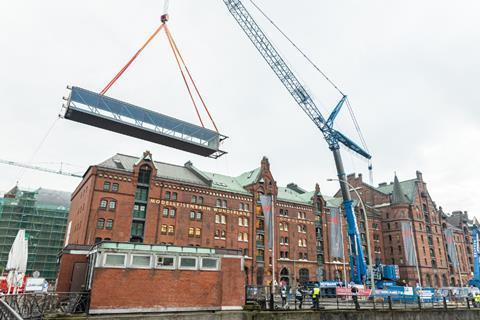 The steel and glass structure connects Miniatur Wunderland's exhibition areas, which are located in two former warehouse buildings. Manufactured by Lamparter, the bridge measures 25 m long and weighs 38 tonnes.
For the project, Gustav Seeland completed a feasibility study, commissioned geostatic reports, and obtained all the necessary permits to transport the bridge. It had to be moved along narrow roads on a lowbed trailer and installed over the Kehrwiederfleet canal.
Before the lift could take place, Gustav Seeland needed to erect a 750-tonne capacity crane. This required a 100-tonne capacity crane, 12 ballast vehicles and counterweights totalling 204 tonnes. Sand was dispersed beneath the crane supports as well as excavator mats.
With the large crane in place, Gustav Seeland began lifting the walkway into position.
"This is not only an exciting and multifaceted project for the team at Seeland, but also significant for Hamburg," said Johann Evers, ceo of Gustav Seeland. "In order to successfully execute a project of this kind, a long and detailed preliminary planning phase is imperative, as is great teamwork at Seeland."