Hendrik Veder Group has rented a previously used 80-tonne steel wire rope to Saipem for the Seagreen wind energy offshore project in Scotland.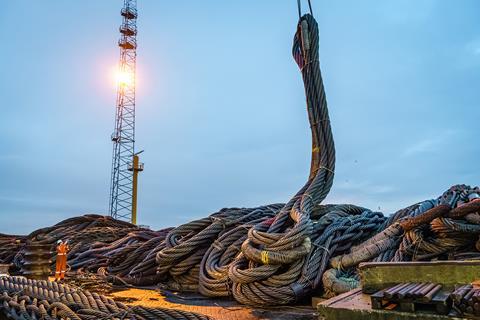 Saipem is deploying its vessel S 7000 for the transport and installation of wind turbines for the 1,075 MW wind farm. Hendrik Veder explained that lifting equipment made from steel is used to load and unload the wind turbines onto the vessel.
By reusing steel wire rope instead of requiring for new rope to be produced, Hendrik Veder said that Saipem not only lowers its costs but also eliminates around 148 tonnes of CO2 emissions during the construction phase.
The rope underwent inspections, refurbishment and re-lubrication, and accessories were replaced.
Egbert Vennik, ceo of Hendrik Veder Group, said: "Many companies are now faced with new sustainability requirements. This is often seen as an additional expense, but sustainability and profitability are not opposing forces. In fact, we show that the two can actually work hand in hand."