Schwarzenberg, Germany-based Ehrig Arne has transported a partially dismantled historic locomotive using a Faymonville 2+4 lowbed semi-trailer.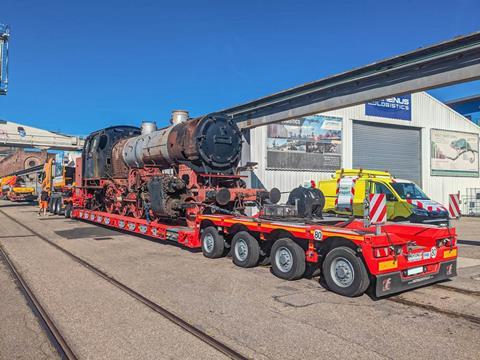 The BR 86 346 locomotive, the last of which was taken out of service by Deutsche Bahn back in 1974, weighed 60 tonnes and needed to be transported from the harbour in Karlsruhe to Ettlingen.
To accommodate the load, which measured 13.86 m long, the vessel deck of the 2+4 VarioMAX trailer was extended by 1 m. The locomotive was pulled onto the low loader using a special track ramp.
The overall weight of the combination amounted to 107 tonnes, with an overall combination length of 30 m.
The locomotive was delivered to Ulmer Eisenbahnfreunde, an association that aims to preserve historic railway parts, which will restore it to its original glory.