Mexican heavy haul specialist Pesado was commissioned to transport an electric locomotive weighing roughly 180 tonnes over a distance of 2,250 km, from San Luis Potosi to Valladolid, Yucatan. It called on a Goldhofer 12-axle THP/SL heavy-duty combination with a drop deck to execute the works.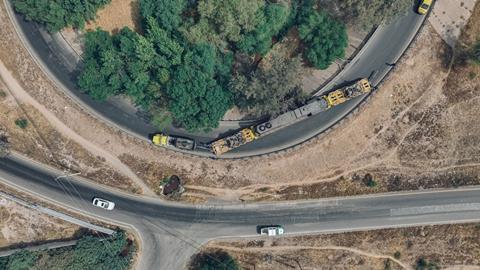 The EMD GP-38-2 electric locomotive was 18 m long and 4.7 m high and will operate on the Tren Maya railway, a major infrastructure project involving the construction of a 1,500 km line linking Mexico's tourism destinations and Maya sites.
Thanks to the drop deck it was possible to reach Valladolid on a near-direct route using mainly motorways. The departure from the loading yard was the first test of the Pesado team's capabilities with the 69 m-long combination. But with a 55° steering angle and +/-300 mm hydraulic axle stroke, no serious problems were caused by the tight spots on the route including roundabouts and junctions, said Pesado.
"It was a challenging journey through tourist areas with narrow roads and tight radii, but the precision steering available with Goldhofer's THP/SL modules makes safe and accurate manoeuvring possible even under such conditions," said Ramiro Muñoz Martinez, specialised transportation engineer at the company's heavy transport team.
The combination was powered, sometimes in a push-pull setup, by two 515 hp Western Star 6900XD 8 x 6 heavy-duty prime movers. The cargo reached its destination in Valladolid in 14 days.