Jumbo's heavy lift vessel Fairpartner recently completed a 29-day tour of Indian gateways, calling at five separate ports.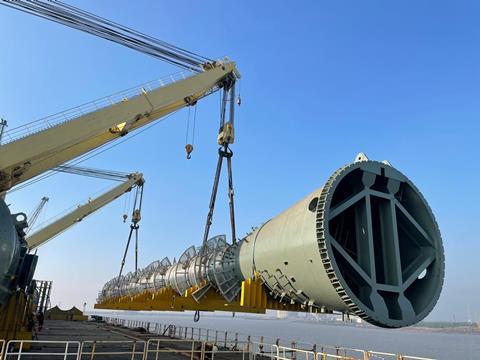 Jumbo combined refinery, port, and liquefied natural gas (LNG) cargoes from three clients: Allcargo Logistics, Total Movements, and Global Golden Coast. Fairpartner called at the ports of Hazira, Paradip, Kakinada, Gopalpur and Dhamra.
To adhere to Indian cabotage regulations, the carrier had to acquire a special voyage license (SVL) for each client and cargo. The licenses were granted with a time limit of just 29 days. To complete the voyage in this window, Jumbo said that it had to stick to a tight schedule and planned operations needed to move like clockwork.
The first stop for Fairpartner was at the busy port of Hazira in Gujarat. With a lot of ship traffic in the area, the port authority sets limitations to the maximum width of the vessels and their pontoons. On this occasion, some cargo needed to be loaded from barges, which required Jumbo to set up its stabiliser pontoon.
The cargoes loaded included a 1,250-tonne ethylene oxide (EO) reactor, a 1,075-tonne wash tower, which measured 96 m x 7.8 m x 8.6 m, and five other large pieces of refinery equipment for Indian Oil Corporation's (IOCL) MEG project in Paradip.
The reactor was the heaviest piece of equipment ever to be transported to this refinery. It also proved challenging to load due to its short length and concentrated weight, said Jumbo.
The wash tower, the reactor, as well as a 715-tonne deethylenizer column, 308-tonne steam drum and a re-condenser unit, were loaded from three separate barges. Small pieces were loaded from the quayside. Jumbo said that each item was safely stowed, some resting on saddles in the hold with the longer items secured to the ship's deck.
In addition to the refinery equipment, a large piece of LNG plant equipment was also loaded on board at Hazira port, destined for Dhamra port.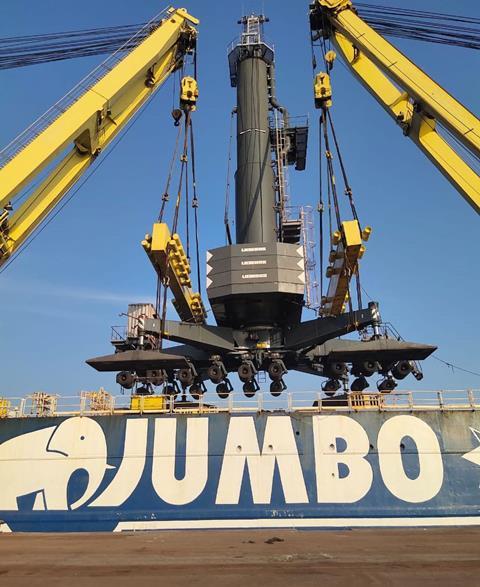 Fairpartner then set sail for the port of Paradip. Jumbo's client Allcargo secured a priority berth and all seven pieces of refinery equipment for the MEG project were discharged onto SPMTs using the vessel's two 900-tonne capacity cranes.
The next stop was Kakinada port, where two Liebherr LHM 550 cranes were waiting to be loaded aboard. OSL, the owner of the cranes, organised berthing on arrival. The 357-tonne units were then loaded onto the deck and secured for onward transport to the port of Gopalpur where they were discharged alongside the vessel.
Fairpartner's final stop was Dhamra port where a 133-tonne condenser unit was discharged. Janesh Gulati, managing director of Total Movements, said: "The shipment was completed in a safe and professional manner despite challenges of congestion at the discharging port."
Wheel & Time, Jumbo's commercial agents in India, played a pivotal management role in this five-stop voyage. It coordinated with GAC India and various other agents at the five ports, with three clients and their respective engineering and administrative teams, as well as with the various port and maritime authorities.
"This was complex coordination at its best. To bring everyone concerned on the same page, the Jumbo team along with Wheel & Time shared and discussed the pre-port planning for every port and clarified responsibilities to keep operations safe, under control and flexible enough to make any necessary contingency arrangements," said Martijn Huijgens, vessel manager at Jumbo.